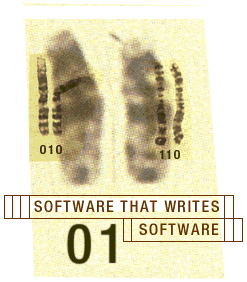 Genetic programming is the new frontier: A human creates
the environment, and a computer hacks the code.

- - - - - - - - - - - -
By Alexis Willihnganz
August 10, 1999 | On a surface the size of a ping-pong table, five canister-shaped robots whir, click and interact, fighting for control of a bright orange golf ball. These robots are soccer players, competitors in RoboCup, the Robot World Cup Initiative, which was created in 1993 to promote research into robotics and artificial intelligence. Even its creators admit that its goal -- to develop a robot soccer team that can beat a human world championship team -- is ambitious. But they claim that RoboCup is a landmark project, similar to the Apollo space program, an engineering challenge that will push the creation of new, "breakthrough technologies."
Ironically, some of the robots themselves were created by computer ingenuity. RoboCup hosts competition in three leagues: small-size, medium-size and simulation. For now, these computer-created robots are playing in the simulation league -- as purely software creations, they compete only on a computer screen. But they are playing as well as many of their man-made peers.
Researchers David Andre and Astro Teller of Carnegie Mellon University entered their Darwin United team in the software league in 1998. Darwin United was created "automatically," using a form of computer programming known as genetic programming, or GP. And genetic programming may be exactly the type of breakthrough technology the RoboCup federation had in mind.
GP programs, which can handle tasks ranging from robot-like motion to human-like inventions, aren't written in the same way that traditional software is written. They are created automatically, evolved from smaller, simpler programs. Actually, the job of GP programmers is to get a computer to solve a particular problem without telling the computer just how to do it. It is, in many ways, the antithesis of traditional programming, in which human programmers write every command line -- telling the computer exactly what to do in every conceivable situation.
GP programmers begin in quite a different manner, by creating the environment in which their programs "evolve." To create that environment, human programmers write software that randomly produces several small chunks of program code. Using the human programmers' description of the problem to be solved, the software then examines these baby programs, and determines which of them come closest to solving it.
The most promising programs survive, and "crossbreed," swapping chunks of program code with each other to create another generation of programs. For generation after generation, programs are "bred" in this way. The human-created environment guides the software to keep the best and discard the rest. Occasionally, the human-created software environment introduces a random "mutation," changing a variable here or a command there. Over the course of many generations, the environment "evolves" complex, effective programs.
Software programs that evolve using genetic programming techniques are often convoluted, bizarrely multilayered creations, nothing like the software a human might write. But they are remarkably powerful and flexible. Andre and Teller's robots came in 17th out of 36 teams. It was a respectable showing, especially considering that the competing software had been written by some of today's best artificial intelligence researchers. The Darwin United team is "not bad for something that was created out of thin air," comments John Koza, a consulting professor of medical informatics at Stanford University, who is considered the inventor of genetic programming.

Next page | GP is evolving images of the perfect Caucasian female face